Why spelling and grammar?
Spelling and grammar are important parts of readable writing. Errors interrupt the reader's natural rhythm and ruin the flow.
Its jarrring whenn yu sea errrors inn whutever your reeding.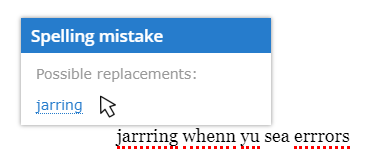 Historically, we decided not to add spelling and grammar to ReadablePro. There are some great applications out there which do spelling and grammar really well, and we didn't see the need for another.
That changed, however, in 2018, when we launched website readability scoring. Now we are scanning and scoring entire websites, those tools which are great for online writers don't quite meet our new needs.
So while we're still huge fans of the likes of Grammarly for in-browser grammar and spelling, we released our own spelling and grammar checker in 2019. Now, whenever you score anything through ReadablePro, we will check the spelling and grammar alongside our readability analysis.